Salma Kaochar, PhD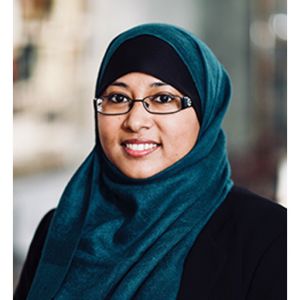 About Salma Kaochar, PhD
Dr. Kaochar is an Assistant Professor in the Department of Medicine at Baylor College of Medicine; Co-Leader, Nuclear Receptor Program at Dan L. Duncan Comprehensive Cancer Center (DLDCCC); Co-Leader, Prostate Cancer Working Group, DLDCCC; Associate Director, Center for the Biology of Health Disparities, Department of Molecular and Cellular Biology, Baylor College of Medicine; and Director, Minority Patient-Derived Xenograft (PDX) Development and Trial Center (M-PDTC), Baylor College of Medicine.
Dr. Kaochar runs a translational research team. Her lab's research focuses on identifying novel gene targets that can be exploited therapeutically for the treatment of prostate cancer, with a particular focus on identifying new treatment targets that will be effective in African American men with prostate cancer. Her research team is investigating the role of the p160 steroid receptor coactivators in prostate cancer, and are developing a novel class of small molecule inhibitors (SMIs) of the p160 SRCs. The team is also evaluating the therapeutic potential for targeting altered prostate cancer lipid metabolism using novel inhibitors.
Dr. Kaochar is a widely published and active researcher in the prostate oncology field. She has previously received merit-based awards including the Galileo Circle Scholar Award, HHMI EXROP Scholar Award, Beverly Rogers Graduate Fellowship, NIH Predoctoral Institutional Training Fellowship, a NIH/NRSA F32 Fellowship, 2018 AACR-Woman in Cancer Research Scholar Award and a 2018 Prostate Cancer Foundation Young Investigator Award.
Dr. Kaochar obtained a MFA in Creative Writing and a PhD in Biochemistry and Molecular and Cellular Biology at the University of Arizona. She completed postdoctoral fellowships at UT-Southwestern Medical and Baylor College of Medicine. She spend a short period at Roche Tissue Diagnostics where she served as one of the lead
scientists for one of its most widely used product, the FDA approved INFORM Her2 Dual ISH Assay and received a Roche R&D Top Employee Award. This experience provided her with a unique opportunity to learn how to successfully develop cancer diagnostic tools and the process involved in acquiring FDA approval.