At PCF we are tracking any real-time data on COVID-19 in cancer patients that's credible and peer-reviewed.  This page will list a number of resources for patients and families and we will continue to update this page as more information becomes available.
Our Next Q & A
Sorry for the inconveniences, due to technical difficulties with an issue on the Facebook live streaming side we will have to reschedule today's live stream.
Submit your Coronavirus Questions here.
April 3, 2020
The CDC has updated its recommendation regarding cloth face coverings. People who do not yet know they are infected may still be able spread the virus to others by exhaling tiny aerosols during prolonged close contact. Simple face coverings (NOT medical masks) may provide an additional layer of prevention. Please read the
CDC's recommendation
carefully. Staying home except for essential errands and keeping at least 6 feet apart when out of your home are still vitally important actions you can take right now.
March 27, 2020
At PCF we are tracking any and all real-time data on COVID-19 and experimental treatment in cancer patients that's credible and peer-reviewed. Data is coming in. Of note, not all of these clinical trials — which are going to teach us how to care for COVID-19 patients with cancer — are also going to be a breakthrough. The results of this trial showed us an approach that is not helpful to patients.
That said, some good science suggests one very good idea for prostate cancer patients with severe COVID-19 infections includes testing existing drugs used to treat other viruses and other infections. Hydroxychloroquine is an FDA-approved, inexpensive drug you can take by mouth. It has been found to affect SARS-Cov2 virus in a dish. It is now being tested in US patients with severe respiratory cases of COVID-19, including patients with cancer— and that will include prostate cancer patients at all stages of disease.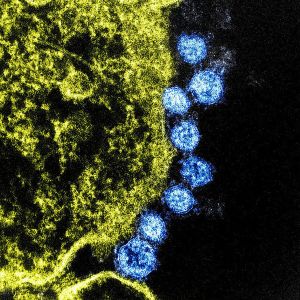 At PCF, we realize that many of you who have been affected by prostate cancer, or whose loved ones have been affected by prostate cancer, might be wondering if special precautions need to be taken with the coronavirus pandemic unfolding. We have always believed that evidence out of science and research are the best tools for solving patients' problems, whether that's cancer or public health emergencies. As such, we will do our best to use science to provide information and a steady hand in this tumultuous situation.
Scientists know that the coronavirus (aka COVID-19 COrona VIrus Disease 2019) can affect your immune system, although we are still learning more. Based on recent data as reported in the journal The Lancet, it appears that the virus hits the immune system early and knocks down the white blood cells that fight infections. This translates to respiratory disease for most patients who become sick with COVID-19.
The most important thing to remember, whether you have been affected by prostate cancer or not, is that if you are having symptoms as described here, such as a fever (99.1°F [37.3°C] or higher), persistent cough, or shortness of breath, you need to call your doctor.
If you are not having symptoms, it is important that you follow the guidelines to stay safe and avoid spreading the disease. It is critical that all citizens, not just those with prostate cancer, adhere to CDC and local public health guidelines (here's an example of one source of local guidelines from the County of Los Angeles). You can view the full, trusted list of prevention tactics here, but our top three are: 1) wash your hands for 20 seconds with soap, especially after blowing your nose and before eating, 2) stay 6 feet away from people if you are out in public, and 3) keep your hands away from your face, where the virus can readily enter through your eyes, nose, and mouth.
That said, here are a few extra details for those of you in the prostate cancer journey:
As expert peer-reviewed data comes in to the Prostate Cancer Foundation and the American Society of Clinical Oncology on clinical trial results of anti-COVID-19 treatments in prostate cancer patients — benefits and side effects – we will share the findings here. This page will list a number of resources for patients and families and we will in real-time continue to update it as more information becomes available.
With kind regards for the health of you and your family,
Jonathan W. Simons, MD
President and CEO
Prostate Cancer Foundation
---
Resources
---
Articles